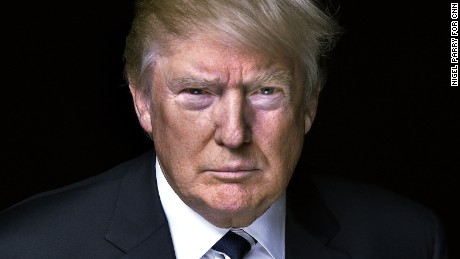 Born in 1946 in Queens, Maryland,
Donald John Trump
was the fourth child in
the family. He was sent to a military academy at 13 and entered Fordham University, transferring to Wharton School of Finance later and graduating with a degree in economics. In 1971, Trump took hold of his father's business, renaming it the Trump Organization, which focused on middle class housing, and was very successful with 100 percent occupancy in two year. Afterwards, he became involved with larger buildings, earning his first million, and then buying an estate in Palm Beach, Florida, and the Plaza Hotel in New York. In 1989, he bought 727 planes to form a Trump air service, but controversy arose after a helicopter fell, killing three of Trump's executives.
Trump
made decisions in his business and that caused him not be able to pay his loans. Despite this set back, he was able to build his third casino that was worth $1 million, and was called the Taj Mahal. Soon after he was in debt and he went bankrupt. In 1990 and after, he became more stable financially. Then in 1996, he took ownership of
the Miss Universe, Miss USA, and Miss Teen USA pageants, and in 2003 became the executive producer and host of the show "The Apprentice" and co-produced "The Celebrity Apprentice". He also marketed the Trump name on many products.
Meanwhile, Trump had married three times. First, in 1977 he married the model Ivana Zelnickova and had three children, Donald Jr., Ivanka and Eric. Their marriage ended when she found out he had a love affair with Marla Maples, who Trump married and has one daughter, Tiffany. Then Trump divorced Maples and she received $2 million dollars in 1999. In 2005, Trump married again, this time to Melania Knauss, and had a son. She is still his wife today.
In 2000, he expressed interest in running for president as a third party, and then again in 2004 and 2008 he thought about running for presidents as a Republican. In 2006 he wanted to run for mayor. From 2010 to 2012, he expressed his want to become a president publicly, but he was involved with a group that believed that Obama was not born in the U.S., and caused his political reputation to dropped and continued to try to find faults in Obama's presidency.
Today, in the year 2016, Donald Trump is the republican nominee for presidency.
Donald Trump wants to shut down the
border for all muslims
from "terror countries" to try and prevent the rise of terrorism and terrorist acts in the United States. However, he does does not support
gun
control, which can contradict his reasons about closing the border for safety reason because gun violence is increasing each year and according to International Action Network on Small Arms of the United Nations. The annual gun
homicide
in the US is more than 10,000 (50 times more than Canada and 200 times more than Japan). He holds a strong belief in the second amendment.
As a republican nominee he is
pro-abortion
and of course he is for the
death penalty
. These two issues also contradict each other and are total opposites yet he supports them both. Even though that some conservatives are coming out against the
death penalty
and are more lenient now, Trump still stands by his beliefs. However, he recently stated that, "
waterboarding
would be fine, if they can expand the laws, I would do a lot more than waterboarding." This statement is considered highly un-american not only against republican's beliefs.
For a multi-billionaire, there is no surprise that he wants to focus on the
economy
and work to get it out of its non lasting debts. With his history and experience, he seems more than capable of doing so, which also make citizens who do not want to pay more taxes to pay off that debt trust and support him. But that also brings up another question, is the economic problem the only thing he can fix or even know how to control? His foreign policies like withdrawing the US from the trans pacific
partnership
does not sound like the best way to "make America great". It sounds more like he wants to make "America rich again" and in the process America, with all its values and glory, with be destroyed.